Working Moms & Dads Can Simplify Family & Professional Life
You Can Overcome Being Overwhelmed
Too much to do? Too many tugs on your heart and your time?
Is life too fast? Too complicated?
Do you need a work-life balance? More harmony?
Have you been wondering: "How can I get it all done?"
Does it seem like you are walking through mud? 
Does it seem like life is spinning out of control?
Is it hard to find joy while parenting? Being with your family?
Is there too much conflict in your family?
Do you find yourself being overly reactive?
Are you wondering how best to parent when you are stressed?
Are you wondering what you can do to not lose your temper? Or yell?.
Do life's obligations seem overwhelming?
Parents today are overwhelmed with all that there is to do.
What does it mean to 'Simplify Life'?
How can you 'Overcome Being Overwhelmed'?
Is it possible to remove some of your life's stressors?
You can find ways to reduce stress and improve your family life.
All parents are working parents. Throughout history parents have always worked caring for the home and the family. Now some parents have a paid job outside the home, too.

Sometimes parents get overwhelmed by all that is happening in life, especially during high stress times. This can happen when one has a busy family life whether they have a paid job outside the home or not.
Overwhelmed parents:
Want to manage the relationship between you and your co-parent in a more peaceful.
Want to have a work-life balance.

Seldom invite guests to their home: few playdates and gatherings with family and friends.

Find that they are not tending to relationships – in the family and with friends.
Family members may not like being a part of the family, unhappy family, too much conflict, and nobody gets along.
Need support as they work towards a less stressful family life.
Find it hard to focus, hard to read.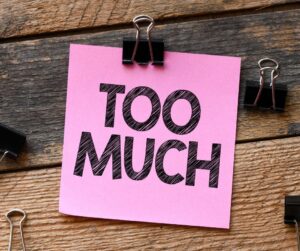 Find it hard to do anything 'extra.'
Find that their family life is chaotic.
Want to manage work deadlines even when there are pressures to get home earlier.
Find that they are stressed physically. May become emotional during times of stress

Have a 'short fuse.' They have frequent anger episodes and emotional upsets. They may be more reactive.
Are not getting enough sleep because they are up worrying about all that they have to do tomorrow and the next day and the next.
Are not taking care of themselves. Minimal self-care: Not eating healthily or exercising, not making and keeping their doctor's appointments.
Are not able to keep up with their obligations.
Are missing out on family fun.
***One important note: being overwhelmed is not the same as feeling overwhelmed. 
Feeling overwhelmed or being depressed can be a mental health concern, so please contact a mental health professional if that is happening.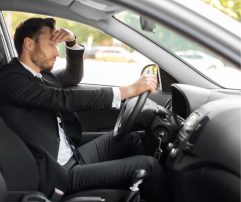 Stressors are cumulative.

Is it possible to reduce the number of stressors?

Do you wonder if you can simplify your family life?

Why does this happen?
Not enough time to do what needs to be done.
Not enough physical help and/or emotional support with parenting.
Too many house chores.
Over scheduled family life.
Uncertain about how best to parent – Don't know what to do – Need more parenting tools.
Co-Parents and caregivers don't agree on how best to parent.
Need a better co-parenting plan or parallel parenting plan.
Parent and/or child's sensitive, intense temperament, or other incompatible temperaments.
Not having someone to guide or show you what you can do, a role model.
Paid work hours are too long. Need a better work-life balance. Need more harmony between home and work life.
Too much stress from paid work life.
Not enough sleep and self-care.
Unexpected obligations, like the COVID quarantine.
Unstable family relationships.
Parent or child's physical or mental health issues.
Need to care for sick or elderly family members.
Long-lasting effects of childhood trauma.
Loved one's substance abuse.
Not knowing what needs to change in your family or how to make those changes.
Why is simplifying so important? By minimizing life's stressors, you will:
Manage the time requirements of paid work more easily.
Feel better physically.
Feel less stressed.
Feel calmer.
Feel more in control.
Reduce chaos.
Be less reactive, will have a 'longer fuse.'
Be better able to manage life's challenges.
Be more flexible when necessary.
Improve family relationships. Everyone will enjoy being in the family more.
Parent in a way that will feel better to everyone in the family.
Find more joy.
Have more time for family fun.
Have more time for relationships in the family and with friends.
Find more happiness.
Care for yourself and your well-being.
Reduce Stress. Reduce Worry. 
Overcome the Overwhelm. Simplify. 
Sleep More. Calm Your Life.
The upcoming 4-week, 7-step workshops will focus on helping you to discover what changes are possible and then discerning whether and when these changes can be made. This will be a dedicated time during which you can identify what you need to do to simplify your life and reduce family stress and then create a plan to do so.
Tuesday, January 9, 16, 23, 30: select either 4 p.m. or 7 p.m.
Wednesday, February 7, 14, 21, 28: select either 4 p.m. or 7 p.m.
Friday, February 2, 9, 16, 23: 10 a.m.
Saturday, February 3, 10, 17, 24: 10 a.m.
The workshop will offer four weeks of coaching, encouragement, and guidance. It will include:
Weekly guided discovery and decision sessions. We will work through the 7 steps that can lead to a simpler and less stressful life. These will be LIVE coaching sessions on Zoom, not prerecorded. There will be time for Q&A.
Two 30-minute private, personal coaching sessions.
Downloadable workbook to record your discoveries and decisions as you work through the 7 steps.

A weekly Q&A/group coaching session.
Registration fee: $200 per family. 
Are you wondering: "I don't have time to work on simplifying. Why should I add one more thing to my to-do list?"
Doing this work will make your to-do list smaller. That is the goal, and it can happen.
If now is not a good time, then when?
As the old saying goes, 'time is of the essence.'
You can make things better, sooner rather than later.
When parents don't have the peaceful family life that they have always dreamed of, it may be time to work on simplifying family life.
4-Week, 7-Step Workshops to Simplify Your Family & Professional Life
Start Dates in January and February
This workshop will be facilitated by Jennifer Watanabe, Parent Coach:
Bellevue College, WA state – retired after teaching parenting classes for 24 years.
Certified Parent Coach from Seattle Pacific University's Parent Coaching Institute.
Certified Positive Discipline Parenting Educator.
For questions about the workshop: jennifer@resourcesforparenting.com
206-399-4355 okay to text
Information about Coaching and Jennifer Watanabe.